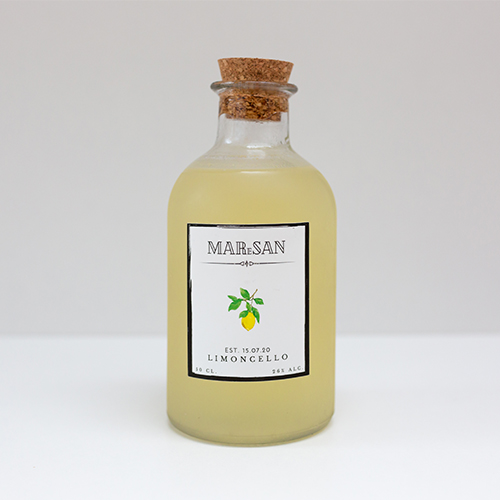 Limoncello
14 December 2020
Limoncello.o
€3,75
The perfect cold lemonade,
A crispy Sicilian granita,
Or a base for an original mock or cocktail.
You decide. It's all there.
All in one jar.
A jar? Yes a jar!
The syrup comes in a jar because it's really something special.
The unique recipe of the all natural syrup made of fresh lemons, is balanced in such a way, that all you have to do is put your jar in your freezer. Simple as that.
After a couple of hours just spoon out that perfect Sicilian granita.
Rather feel like a cool fresh glass of fresh lemonade?
Put the granita in a glass and simply add an equal amount of water to start sipping your perfectly cold and resfreshing lemonade.
Now the Maresan Limoncello 'salute' moment can be celebrated together with your children, expectant mothers, teetotallers and drivers too.
Where the secret to the Limoncello lies in the peel of the lemon, the Limoncello.o syrop uses the fountain of flavour found in the heart of the lemon.
No taste goes to waste.
| | |
| --- | --- |
| Region | Amalfi coast, Campania, Italia |
| Farm | Azienda agricola Buonocore, Tramonti |
| Alitude | 321 m |
| Size | 370 ml |
| Alcohol percentage | 0.0% |